Boogiemann Soulski meets E Da Boss
June 14, 2018 at 7:00 pm

till

9:30 pm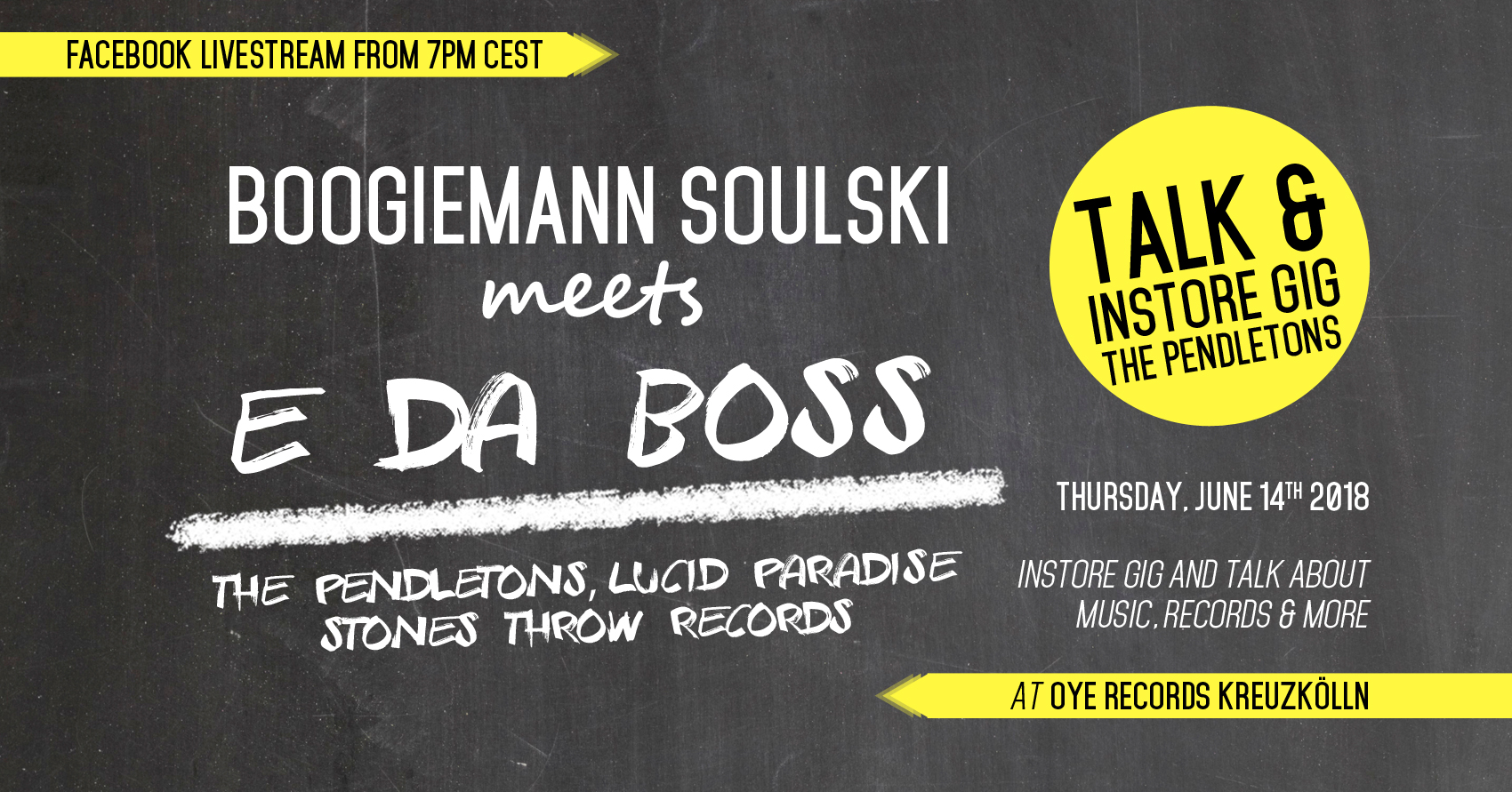 "Boogiemann Soulski meets" ist wieder da. In Ausgabe Nummer 3 ist E Da Boss von Stones Throw/The Pendletons/Myron&E zum Talk im OYE Kreuzkoelln da. Obendrein gibt es gemeinsam mit Ishtar live 2,3 Tracks von The Pendletons & Lucid Paradise zu hören. Im Anschluss spielen alle gemeinsam mit Reel To Reel ein paar Scheiben.
Die Veranstaltung findet in englischer Sprache statt und wird live auf Facebook übertragen.
E DA BOSS
E DA BOSS is the definition of a multifaceted artist. It began with DJing and a love of hip-hop, which eventually turned into producing, and ultimately brought him to singing and songwriting.
E got his first taste of music by playing records during family card games and fish frys. As a teen, he began collecting records of his own and DJing, hanging out at the Music Factory and Rock and Soul in New York City. After relocating to southwest Virginia, he graduated high school and began DJing parties, which allowed him to invest in an Ensoniq ASR-10 keyboard, two Technics turntables and an eight-track recorder. He later moved to San Francisco where he met Myron Glasper while on the road with the Bay Area's Blackalicious, and shortly after E released an independent record as a producer under the name E da Boss.
While touring in Finland for his solo project, E found himself in an impromptu jam session with members of The Soul Investigators, whose work with singer Nicole Willis helped define them as one of Europe's foremost retro-soul bands. Investigators producer Didier Selin was impressed enough to leave E with several unfinished tracks. Back in the U.S., E recruited Myron as a singing and songwriting partner, and Myron & E was born. Together, Myron & E released a string of successful 45 singles on The Investigators' label Timmion Records, and then went on to release their debut album "Broadway" on renowned label Stones Throw.
Since then E has toured the world and recently released a 45 with Russian funk band The Soul Surfers on Ubiquity Records, in the meantime E has contributed vocals to a track for UK sensation The Gene Dudley Group's sophomore album on Wah Wah 45s, as well as releasing material under the moniker Lucid Paradise alongside Ishtar on The Whole Truth Records and a few 45s as part of The Pendletons on his own independent label Slept On Records.
In 2018 the group is hitting the ground running with a brand new EP out this spring, and a full-length album to follow later later in the year on the renowned Bastard Jazz label. Now armed with a horn section, a vast array of accomplished jazz and funk contributors, and a knack for quality song-writing, the Pendleton's sound has shaped into something fresh and unique, setting it apart from the legions of imitators.On top of all this it's an exciting time for fans of E's music, as it appears new sounds are on the horizon with a new collaboration underway with German heavyweight funk label Mocambo Records, starting with a limited edition 45 feat. Ishtar called featuring the song "The Turning Point".
https://thependletonssf.bandcamp.com/album/funk-forever
http://www.soundcloud.com/dj_eric_boss
https://youtu.be/1AF9TIAxhdE (E feat. Ishtar "Turning Point", Mocambo Records)
http://www.facebook.com/thependletonssf
https://youtu.be/SNKLbFxzQkc (The Pendletons "Gotta Get Out", Voltaire Records)
BOOGIEMANN SOULSKI MEETS
Im Allgemeinen läuft es so: Parties kommen und gehen, Gäste und Acts aus Berlin und aller Welt geben sich die Klinke in die Hand. Es wird getanzt, es wird getrunken und am Ende gehen alle glücklich auseinander. Und doch etwas fehlt: Die Gespräche zwischen den Protagonisten, beim Abendessen vor der Party, zwischen den Sets, im Backstage, all dies bleibt nur den Künstlern selbst vorbehalten. "BOOGIEMANN SOULSKI meets…" will ein Stück dieser Gespräch ab sofort auf die Bühne bringen, es werden Geschichten erzählt und Platten gehört und Bier getrunken.