Am 14. Juni war E Da Boss (The Pendletons, Lucid Paradise, Stones Throw Records) zu Gast bei der dritten Ausgabe von Boogiemann Soulski meets… Wir sprachen über Musik, aktuelle Veröffentlichungen und die Liebe zu Schallplatten. Ein spannender, persönlicher und musikalischer Einblick in die Welt von E Da Boss.
Die Sendung wurde bei Oye Kreuzkölln aufgezeichnet und fand in englischer Spache statt. Hier sehr ihr das komplette Gespräch, live on tape + ergänzt um weitere Kameraperspektiven, bei Youtube:
Das komplette Gespräch als Audiofile gibt es bei Soundcloud:
Folgende Tracks und Schallpatten haben wir uns angehört & besprochen:
Klickt auf den Track und ihr springt sofort zur Stelle im Video.
E feat. Ishtar – Turning Point
Nick Andre, E Da Boss, Ryan Green – Nobody Knows
DJ Platurn feat. E Da Boss – In Love
Love Track: René & Angela – I Love You More
33/45:  Change feat. Luther Vandross – The Glow Of Love
Most travelled record: Breakdown Brass – Mary Jane
Favourite Track: The Sunburst Band – Everyday (Joey Negro Edit)
Gene Dudley Group feat. E – I've Changed
Lucid Paradise – Tonight (Live)
E Da Boss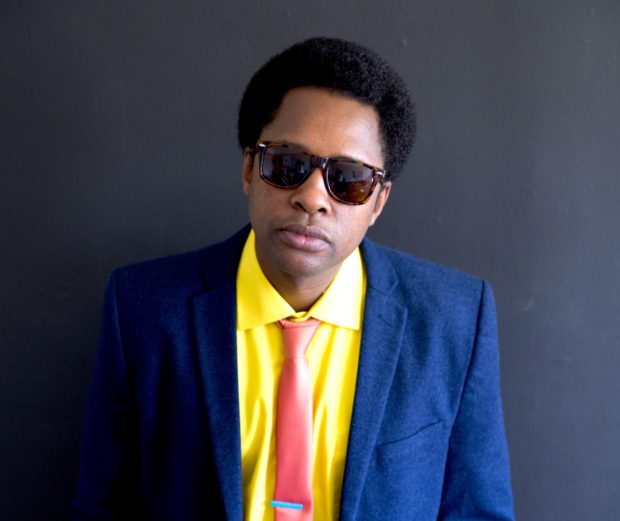 E DA BOSS is the definition of a multifaceted artist. It began with DJing and a love of hip-hop, which eventually turned into producing, and ultimately brought him to singing and songwriting.
E got his first taste of music by playing records during family card games and fish frys. As a teen, he began collecting records of his own and DJing, hanging out at the Music Factory and Rock and Soul in New York City. After relocating to southwest Virginia, he graduated high school and began DJing parties, which allowed him to invest in an Ensoniq ASR-10 keyboard, two Technics turntables and an eight-track recorder. He later moved to San Francisco where he met Myron Glasper while on the road with the Bay Area's Blackalicious, and shortly after E released an independent record as a producer under the name E da Boss.
While touring in Finland for his solo project, E found himself in an impromptu jam session with members of The Soul Investigators, whose work with singer Nicole Willis helped define them as one of Europe's foremost retro-soul bands. Investigators producer Didier Selin was impressed enough to leave E with several unfinished tracks. Back in the U.S., E recruited Myron as a singing and songwriting partner, and Myron & E was born. Together, Myron & E released a string of successful 45 singles on The Investigators' label Timmion Records, and then went on to release their debut album "Broadway" on renowned label Stones Throw.
Since then E has toured the world and recently released a 45 with Russian funk band The Soul Surfers on Ubiquity Records, in the meantime E has contributed vocals to a track for UK sensation The Gene Dudley Group's sophomore album on Wah Wah 45s, as well as releasing material under the moniker Lucid Paradise alongside Ishtar on The Whole Truth Records and a few 45s as part of The Pendletons on his own independent label Slept On Records.
In 2018 the group is hitting the ground running with a brand new EP out this spring, and a full-length album to follow later later in the year on the renowned Bastard Jazz label. Now armed with a horn section, a vast array of accomplished jazz and funk contributors, and a knack for quality song-writing, the Pendleton's sound has shaped into something fresh and unique, setting it apart from the legions of imitators.On top of all this it's an exciting time for fans of E's music, as it appears new sounds are on the horizon with a new collaboration underway with German heavyweight funk label Mocambo Records, starting with a limited edition 45 feat. Ishtar called featuring the song "The Turning Point".